Nutter (200g)
PRODUCT INFO:-

Indulge in the wholesome goodness of "Nutter," our salted plant-based vegan butter with no cholesterol. Made from premium cashews, this healthy and creamy delight is dairy-free, perfect for spreading, baking, or cooking. Now enjoy your Pav Bhaji and Maska Pav guilt free.
Free From:
DAIRY | LACTOSE | CHOLESTEROL | SOY | GLUTEN | GMO | PRESERVATIVES | CRUELTY
Regular price

Sale price

Rs. 195.00
Cholesterol Avoided 440mg
Impact Evaluator | Donate ₹20/- per purchase

Impact Evaluator
SAVE-H2O: 30 PIP
NO-GHG: 20 PIP
FREE-LAND: 30 PIP
HAPPY-WE: 20 PIP

TOTAL PIP: 100

For each Nutter you buy, you will be donating ₹20/- out of the cost to our partnered NGO.
Nutritional Facts

Per 100 g (Approximate Values)

Energy – 603 Kcal
Total Fat – 57 g
Saturated Fat – 40 g
Trans Fat – 0 g
Cholesterol – 0 g
Total Carbohydrate – 18 g
Total Sugar – 0 g
Protein – 3 g
Sodium – 820 mg
Potassium – 20 mg
VITAMIN A – 12% of Daily Value
Calcium – 2% of Daily Value
Ingredients

Coconut Oil, Canola Oil, Cold Pressed Walnut Oil, Filtered Water, Cashews, Olive Pulp Extract, Sea Salt, Calcium, Annatto
Recipe and Videos
Share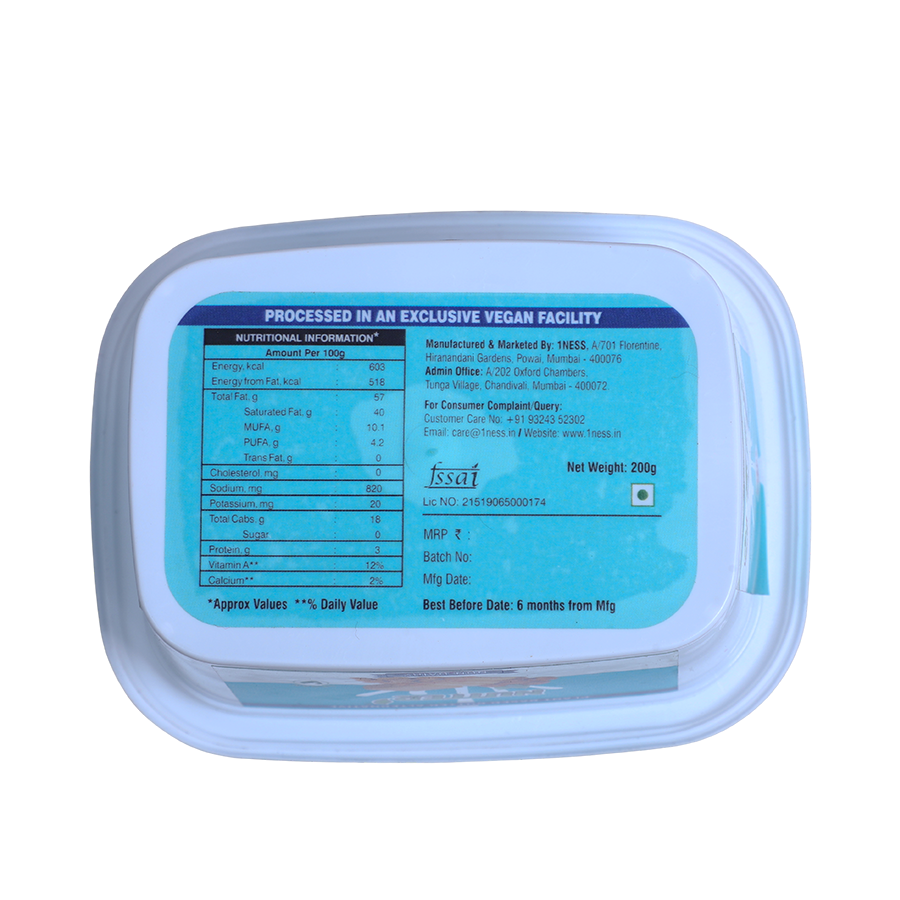 "Protect Your Planet And It Will Protect You Back"
By 1Ness!
Even better than butter
Nutter has been a great find. To be honest, it tastes even better than butter. Whether it is pav-bhaji or pasta or a crispy toast - makes everything taste special. Always in my pantry.
Perfect butter with imperfect delivery
I really like the butter but it took more than 15 days for it to arrive and there was no tracking available. I had to follow up everyday